HOME >
BRANCHES AND SALES OFFICES
THE COMPANY
Succession of imaginative management practices and techniques
ISO9001
VESSEL considers ISO 9000 series certification to be its answer to customers' trust in the company.
All manufacturing divisions have begun the process of earning certification under the ISO 9000 series of quality management system standards.
VESSEL is committed to pursuing corporate activities that will facilitate the creation of easy-to-use tools.
Certified party : VESSEL INDUSTRIAL CO., LTD.
Certified items : Screwdrivers, wirestrippers, and air dusters
Certification authorit : JQA (Japan Quality Assurance Organization)
Registration number : JQA-1486
Registration date : December 13, 1996
Certified party : VESSEL SHIMANE CO., LTD.
Registered acitivities : Manufacture of driver bits for power tools(except customer specification bits)
Certification authority : Intertek Certification Japan
Certificate number : 07143
Original Issue date : December 28, 2010
ISO14001
We obtained ISO 14001 in July 2010.
VESSEL will further strive to offer eco-friendly products, aiming at minimizing the environmental burden as a manufacturing group.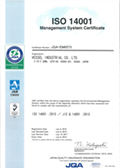 Certified party : VESSEL INDUSTRIAL CO., LTD.
Registered acitivities : Design, development, production and servicing of industrial tools, tip tools (screwdriver bits), static elimination devices.
Certification authority : JQA (Japan Quality Assurance Organization)
Registration number : JQA-EM6573
Registration date : July 9, 2010
Certified part : VESSEL SHIMANE CO., LTD.
Registered acitivities : Manufacture of driver bits for power tools
Certification authority : Intertek Certification Japan
Certificate number : 06543
Original Issue date : August 24, 2010